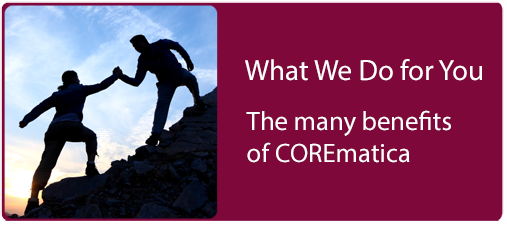 If You Can Say It, We Can Pay It!

Reduce Errors
Powerful calculation engine consistently and accurately calculates payments based on objective metrics and the rules you set up for each clinician, for each business unit, site, shift, and day of the week.

Increase Efficiency
Produce payroll faster and better by automating production of service-to-gross payroll. Reduce or eliminate manual processes using spreadsheets. Develop best practices to streamline business processes; improvements will become evident when the data from your other software systems are exposed in COREmatica.

Give Feedback to Clinicians
Clinicians love our Statement of Earnings and Reimbursements because it clearly communicates the detail of their incentive compensation plan and gives them timely feedback on how they are doing. With all payment calculations exposed, clinicians gain confidence that they are being paid fairly and their trust and satisfaction in your company increases.

Free Your IT Staff to Work on Other Projects
COREmatica lets you respond to change like no custom homegrown system can. It's designed to be flexible and powerful, to handle unanticipated requirements with little to no development effort required from your IT staff. With COREmatica, you can reassign your valuable IT resources to work on other high-priority initiatives, taking them out of the mundane day-to-day support role for producing payroll.

Diminish Your Risk
By moving payroll business intelligence into COREmatica, the dependence on key personnel for producing payroll is greatly diminished. Several people can be trained to process payroll to relieve the dependence on specific individuals.

Centralize Payroll Processing
Manage all clinical payments in the COREmatica database. Collect and store all payment methodologies and pay rates from disparate sources in a single, reportable central repository.

Support Future Growth
Easily add new business units, sites, clinicians, and compensation plans to the flexible and scalable infrastructure provided by COREmatica.

Support Simple and Complex Incentive Payments
Consistently and accurately calculate performance payments based on RVUs, charges, patients, shifts, and more. COREmatica supports over 150 payment methodologies giving you more options for effective incentive compensation plans.

Support Quality
Pay clinicians based on quality metrics including patient satisfaction, core measures, and any activities that influence maximizing reimbursements.

Pay Late Charts
Set a look back period to recalculate past pay periods to include additional billing when it becomes available.
Model Compensation Plans
The COREmatica What-If analysis feature lets you model new compensation plans using historical performance data. Choose from over 150 payment methodologies to compare your current plan to proposed plan.

Introduce Risk-free Compensation Plans
Introduce new compensation plans to clinicians using the Training Wheels feature. This feature lets you calculate current and proposed plans side-by-side and pays the greater of the two plans, with all calculations detailed on the clinician's statement. Some clinicians will benefit immediately from the proposed plan and the others will understand what they need to do to make the same money or accept that they will make less money when the Training Wheels come off.

Get Answers to Your Questions
Run reports with a click of the mouse for Contract, Financial, Payroll, Performance, Setup, and System information. Data can easily be downloaded into Excel for additional analyses.

Track Reimbursements
Capture reimbursements to clinicians for expenses they incur. Reimbursements are included on clinician's statement, usually as a 1099 payment.

Automate Interfaces to Scheduling, Billing, and Financial Systems
Seamless, automated integration with all the other systems within your system architecture. Every payment in COREmatica is GL account-based so payments can be accurately categorized to work in concert with your financial systems.

Save Time and Money
With COREmatica, you'll have a proven solution quicker than you can develop a custom solution, saving you time and money.

Provide Audit Trail
COREmatica gives you volumes of historical data and an audit trail that provides documentation for how each clinician was paid, at any point of time. The collected data lets you explore trends and statistical significance for learning from successes, to help you secure new business or improve existing business at each of your sites and/or for each of your clinicians.

Improve Inter-department Communication
Create security roles to permit access to areas within COREmatica that are relevant to the work done by scheduling, credentialing, recruiting, management, and payroll departments. Each department that uses the system will better understand your business processes and have common information to improve communications.

Gain Immediate Access to the Latest Innovations
COREmatica is a living product that is continuously being enhanced to address the needs of an entire industry of users. You will continue to use state-of-the-art software to stay competitive in your marketplace if you choose to purchase the maintenance package.